Jeffrey Kelley Wood
(1947-2005)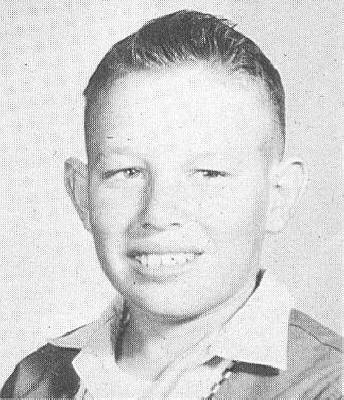 Owyhee Avalanche

-

June 29, 2005

Jeffrey Kelly Wood passed away October 6th, 2004, in Dade City, Florida, after a brief struggle with kidney cancer.

Jeff was born July 23rd, 1947, in Mesquite, Nevada, the second child of Frederick Leslie Wood, Jr., and Marguerite Hughes Wood.

In March, 1949, the family moved to the Homedale, Idaho area. Jeff grew up on the family farm and attended Homedale grade schools. He attended Georgia Military Academy, graduating in 1965. He attended Furman University on an athletic scholarship and subsequently graduated from Athens College in Athens, Alabama.

Jeff entered the banking business in New Orleans, LA., and San Francisco, CA. He returned to the Treasure Valley in May of 1976, and began working for First Security Bank. He was a loan officer at the Parma, Caldwell, and the Rupert branches, and the branch manager at the Parma office.

In the summer of 1976, Jeff met the love of his life, Sharon Lee Nuerenberg of Caldwell, ID. They were married on February 15, 1977, and had one child, Andrew Lee.

In 1987, Jeff joined First Union Bank in the Dade City, FL. branch, and worked there until he retired in 2000. At retirement, Jeff was Vice President of First Union's central Florida private banking sector.

After retirement, Jeff became a licensed mortgage and insurance broker forming his own mortgage company. He and Sharon developed Wood Property Management, and owned various real estate in central Florida.

Jeff was a very active member of the Dade City Rotary Club, a charter member of the Bayhead Boys Club, and a member of the Silver City Chapter Idaho Masonic Lodge.

Jeff's son Andrew was his real pride. Andrew served with the 101st Airborne and was deployed in Afghanistan and Iraq, where he was decorated for valor. Jeff always spoke of Andrew's military accomplishments with great pride.

As Andrew was his pride, his grandson, Kelley Patrick, was his joy. When the two played together, it was difficult to tell who was laughing more, or who was having more fun.

Jeff and Sharon loved traveling. They took many cruises together around the Caribbean Basin, and on occasion traveled to Europe.

Jeff enjoyed hunting an fishing. He frequently returned to Idaho in the fall of the year to hunt chukar or deer with his two brothers "Ricky" and Barry.

Jeff is survived by his wife Sharon Lee, his son Andrew Lee (Tara), and grandson Kelley Patrick, all of Dade City, FL., his parents, Frederick Leslie Wood, Jr., and Marguerite Hughes Wood, of Homedale, ID., five brothers and sisters, Frederick Leslie III (Amy), of Burley, ID., Sheila Faye (Dan) Eismann, of Eagle, ID., Roderick Barry (Karen), of Gooding, ID., Sharon Lee (Lynn) Backus, of Star Valley, WY., and Samantha Wood, of Pacifica, CA.; thirteen nieces and nephews, various relatives, in-laws, and outlaws numbering in the hundreds. He was preceded in death by both paternal grandparents, Frederick Leslie Wood and Anna Mae Mack Wood, and both maternal grandparents, William Lamond Hughes and Lenna Grace Bowler Hughes.

A memorial service was held in Dade City, FL., on November 6th, 2004, and many wonderful friends and family attended.

Family and friends are welcome to attend a brief gravesite dedication to be held at Wilder Cemetery on July 7th, 2005, at 2:00 PM.