Mrs. Nydia Parkins – Seventh Grade
Teacher
(1904-1992)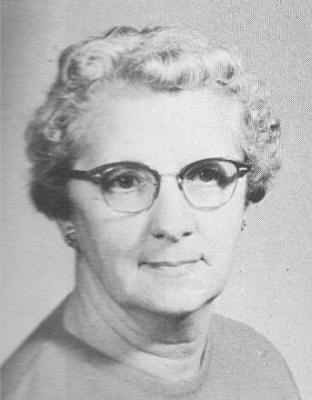 Owyhee Avalanche

-

May 6, 1992

Nydia Parkins

Memorial services were conducted at 10:30 a.m. Saturday in Caldwell for Nydia L. Parkins, 87, Marsing. Inurnment was in Marsing-Homedale cemetery. Mrs. Parkins died April 28 at Mercy Medical Center, Nampa.

She was born Sept. 9, 1904, at Sweetwater, in Nez Perce County, Idaho, to Frank and Almeda McIntire. Most of her public education was obtained in the Lapwai Integrated School system where she was reared. She received her teaching certificate from Lewiston Normal School. She taught in several rural schools in the Lewiston area. She also taught at Rosetta, Idaho, with her husband, Arlie Parkins, before moving to the Homedale community.

The family farmed west of Homedale for about five years. In 1938 they moved to the present family farm at Marsing. After her seven children were raised, she re-entered the teaching profession and spent several years teaching in the Homedale School District. Mr. Parkins died in March, 1988.

She was active in the WoHeLo Club of Marsing, and supported school activities of the Marsing schools during her children's school years. She was a member of the Marsing Senior Center where she provided piano selections for the Monday nutrition dinner.

Surviving are all of her seven children, Artylee Turnbull of Star, L. Mac Parkins of El Cajon, Calif., Marya Duncan of Twin Falls, Venet Larson, Monte Parkins and Doran Parkins, all of Marsing, and Tyra Parkins of Seattle, Wash.; 20 grandchildren, 23 great-grandchildren and one great great-grandchild.

The family suggests memorials to Marsing Senior Center, Marsing Ambulance Fund, or a favorite charity.

A family dinner was served at the Marsing Senior Center following memorial services in Caldwell.