James Walter 'Jim' Love
(1946-1964)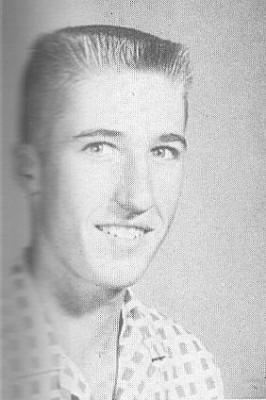 Idaho Free Press

-

November 27, 1964

Combined Rites Planned For 3 Wreck Victims At Jewett Auditorium

Caldwell – Combined memorial services for three Caldwell teen-agers, fatally injured Wednesday night when their pickup truck plunged down a hillside after missing a curve, will be conducted at Jewett Chapel-Auditorium on the College of Idaho campus at 2 p.m. Saturday.

The Rev. Dr. Douglas D. Tiffany, college chaplain, is coordinating the services. The Rev. Robert A. Reed of Boone Memorial Presbyterian Church will speak for Charles Howard Winder, the Rev. Charles M. Hill of Treasure Valley Christian Church will represent James Walter Love and Rev. Dr. Harold N. Nye of the First Methodist Church will speak for George Truman McGinty. Dr. Richard D. Skyrm, head of the C of I music department, will be organist.

Interment at Hillcrest will be directed by the Peckham-Dakan-Davis Chapel.

Two Killed Instantly

McGinty and Winder were killed instantly and Love died about three hours later in surgery at Samaritan Community Hospital in Nampa.

Canyon County sheriff's officers reported that the truck owned by McGinty failed to make the sharp right turn at the dead end of Cherry Lane Road and dived off the steep hill, vaulting Indian Creek slough and apparently striking the bank of the Middleton Road, causing the vehicle to tip over on its top on the road.

Sheriff's officers were notified of the accident at 10:05 p.m. by residents on Middleton Road, about one-half mile north of U.S. Highway 30 at Midway School.

McGinty, 19, was a son of Mr. and Mrs. Delbert E. McGinty of Caldwell Route 2.

He was born Jan. 6, 1945, in Caldwell and was reared here. He was a student at Caldwell High School and also was employed by the J. R. Simplot Company.

He was a member of the Methodist Church.

Survivors Named

Surviving in addition to his parents are his fiancé, Miss Carolyn Vail of Caldwell; a brother, Delbert E. McGinty Jr., of Nampa; four sisters, Mrs. Marjorie Maxwell, Mrs. Dorrel Wyman and Mrs. Kay Herman, all of Caldwell, and Mrs. Joanne Phillips of Twin Falls; and a grandmother, Mrs. Stella McGinty of Alma, Neb.

Love, 18, was a son of Mr. and Mrs. Walter Love of 2023 Arthur Street.

He was born Jan. 29, 1946, in Boise and lived in Owyhee County where his father formerly was a deputy sheriff, before the family moved to Caldwell in the fall of 1960. He was a senior student at Caldwell High School.

The youth was president of the Idaho High School Rodeo Association and won the all-around championship of the High School Rodeo Association in the past summer. He was a member of the Idaho Cowboys Association.

Surviving in addition to his parents are four brothers, Bill, of Riddle, and Tom, John and Ron Love, all at home; three sisters, Mrs. Jackie Kamstra of Ontario, Calif., and Susan and Lori Love, both at home, and his grandparents, Mr. and Mrs. Oral Roberson of Bruneau.

Winder, 18, was a son of Mr. and Mrs. Richard H. (Dick) Winder of Paynter Avenue.

Born in Caldwell

He was born in Caldwell Oct. 9, 1946, and attended grade school in Eagle and Star. He was graduated last May from Caldwell High School. He participated in the Boise Valley Judo Club, Caldwell Junior Riding Club, midget and Babe Ruth summer baseball programs and was active in the Third District High School Rodeo Association.

He had been employed by the parks department of the City of Caldwell from June 1 to Oct. 1 and since had been working at the O & G Seed Company here.

Surviving in addition to his parents are a brother, Robert Jay Winder, at home; two sisters, Kay Lynn and Debra Winder, at home, and his grandparents, Mr. and Mrs. Henry J. Winder of Vale, Mrs. And Mrs. Howard E. Schussler of Caldwell and Mr. and Mrs. Charles Robertson of Caldwell. The Winder family requests memorials be given to the College of Idaho or Treasure Valley Christian Church.