Mrs. Barbara Gardner – High School
Teacher
(1904-1985)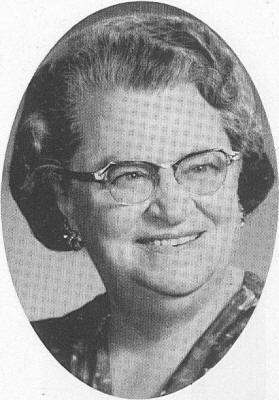 Idaho Statesman

-

December 13, 1985

Barbara L. "Ma" Gardner

Barbara L. "Ma" Gardner, 81, of 3115 Sycamore Dr., Boise, died Tuesday, Dec. 10, 1985, in a Boise nursing home of natural causes.

Funeral services will be held at 2 p.m. Saturday, Dec. 14, at Cloverdale Funeral Home. Rev. Richard B. Vering, chaplain of Boise Samaritan Village, will officiate. Inurnment will be at a later date in Cloverdale Memorial Park.

Mrs. Gardner, a retired school-teacher, was born July 3, 1904, at Cedar Bluffs, Neb., a daughter of Robert and Emma Paul. She was raised in Cedar Bluffs and attended Nebraska Wesleyan University at Lincoln. She majored in physical education and minored in English and vocal music. She received a scholarship for vocal study under Madame Schumann Heink. She married Maurice F. "Mud" Gardner on Nov. 28, 1924, at Glenwood, Iowa. They both pursued teaching careers, and started a family. After moving to Idaho in 1934, Barbara continued her education; attending Lewiston Normal, Southern Idaho College of Education, the University of Oregon, the College of Idaho and Central Washington College of Education. She was now on her way to a successful and wonderful fulfillment of her dreams; to teach and to give of herself. Barbara loved teaching in the secondary schools; each of her students were special to her and she saw the needs of many. She lent them an ear, and with "a twinkle in her eye and a smile on her face," she would advise them on the correct course.

Barbara enjoyed people, cooking, sewing, reading, the Arts, singing, traveling, music and fishing. She loved to be with her family for "those cookouts" on the patio, and to watch the wildlife and quail. Barbara touched many lives, both in her teaching career an in her daily life; her sense of humor and ready smile lifted many a spirit through the years. She will be greatly missed by all who knew and loved her.

Survivors include a daughter and son-in-law, Maureen and Paul Seaman of Boise; a son and daughter-in-law, Larry and Shirley Gardner of Boise; a son-in-law, Alvin Walter of Boise; a brother and sister-in-law, Howard and Sara Paul of Cascade; 10 grandchildren; seven great-grandchildren; and two nieces. Her husband, her parents and a daughter, Colleen Walter, all died earlier.

Friends may call today from 9 a.m. to 6 p.m., and Saturday from 9 a.m. until time of services at Cloverdale Funeral Home in Boise.