Shade Combs – Custodian
(1923-2007)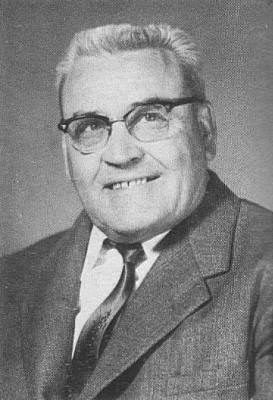 Owyhee Chronicle

-

May 1, 1980

Shade Combs

Homedale - Funeral services were conducted at 2 p.m. Tuesday at Flahiff Chapel for Shade Combs, 76, who died April 24 at his home in Homedale. Rev. Chester Kelley, pastor of Fargo Community Church, officiated. Eulogy was given by Emery Parrill.

Juanita Maggard was organist. Woody Purdom sang "Sheltered in the Arms of God." Alma and Wilton Maggard sang "I'll Fly Away." The Fargo Singers, Harold Pamperien, Velma Kelley, and Ruby O'Neal, sang "Because He Lives."

Honorary bearers were John Combs, Mike Tuning, Danny Combs, Chris Smith, Andrew King and James Mallar.

Casket bearers were grandsons, Teddy, Frankie, Dennis and Archie Combs, Larry McBride, Steve Sommer, Brad Holton and Curt Barker. Interment was in Homedale-Marsing cemetery.

He was born on Aug. 30, 1903 in Bradleyville, Mo., to John and Ida Combs and attended schools there. He married Laura Jane Maggard on July 11, 1923, in Forsyth, Mo. They moved to Rupert, Idaho, in the fall of 1936.

They moved to Homedale in 1940 where they worked in the summer and returned to Missouri in the winter. In 1946 they made their permanent home in Homedale. In 1953 he went to work for Homedale School District and was janitor at the high school for 12 years. He retired as janitor in 1965, but drove school buses until 1971.

He was a member of the New Mention Baptist Church in Missouri and a Deacon of the Fargo Community Church.

He is survived by his wife, Laura of Homedale; three sons, Vernon Eugene Combs of Caldwell, Delbert "Frank" Combs of Homedale and Eddie Leon Combs of Nampa; a daughter, Mrs. Virginia (Mike) Tuning of Greenleaf; two brothers, Etsyl and Richard Combs of Bradleyville; five sisters, Mrs. Rosie Parrill of Homedale, Mrs. Sylvia Hunt Cupp of Forsyth, Mo., Mrs. Goldie Hamilton of Caldwell, Mrs. Dovie Yeary of Taneyville, Mo., and Mrs. Ruby McDaniel of Bradleyville; 17 grandchildren; 19 great-grandchildren, and many nieces and nephews. He was preceded in death by one son, one daughter, six brothers and two sisters.