Linda Kay Cegnar
(1947-1966)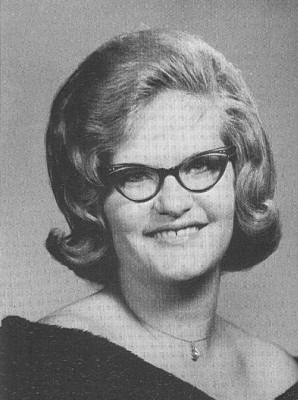 Owyhee Chronicle

-

September 29, 1966

Requiem Mass Is Held For Linda Cegnar

Rosary was recited at 8 p.m. Monday at Homedale's Flahiff Funeral chapel for Linda Kay Cegnar, 19, who died Friday night at a Spokane hospital after an illness. Requiem Mass was celebrated at 10 a.m. Tuesday at St. Hubert's Catholic Church by the Rev. Fr. John Morgan. Interment was at the Marsing-Homedale Cemetery.

Miss Cegnar, daughter of Mr. and Mrs. Lewis Cegnar of Homedale, was born Feb. 2, 1947, at Caldwell. She attended school in Homedale, graduating from Homedale High School in 1965.

While in high school, she was student body secretary for two years. She was a recipient of the National Home Economics Award and the outstanding 4-H homemaking award, and was a junior 4-H leader.

She was a first runner-up for queen of the Owyhee County Fair in 1962, and received a grand champion award. She was narrator of the county 4-H style show for the past two years.

Miss Cegnar had finished her first semester at the University of Idaho last year, majoring in home economics. She was vice president of Pine Hall at the university and was a member of the Century Club and the National Association of Catholic Students there. She was the organizer of the Catholic Junior Choir and was a catechism teacher for small children. She was a member of the St. Hubert's Catholic Church.

Survivors include her parents; a brother, Ron Cegnar, a senior at the U of I; one sister, Cindy Marie Cegnar, at home; her paternal grandmother, Mrs. Mary Cegnar, Homedale; her maternal grandparents, Mr. and Mrs. Ed Parr, Homedale; her great-grandmother, Mrs. Antonia Parr, Fort Worth, Texas; and several aunts, uncles and cousins.

Pallbearers at the services were: Dave Clark, Steve Carson, Alan Johnstone, Bob Carpenter, Glenn Nichols and Dennis Robinson, Honorary pallbearers were: Kirby Wilson, Leonard George, Jesus Aurrecoechea, John Kushlan, Ferris Young and George Roland.