Mr. Deward Bell – Principal and Superintendent of Schools
(1923-2007)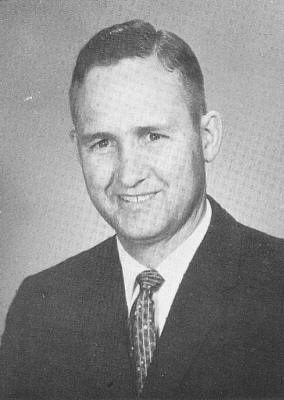 Owyhee Avalanche

-

April 4, 2007

Page 1 - Longtime schools chief Bell dies at 83

Longtime superintendent set example for generation of educators

As much as Deward Bell was the architect of the model for success with Homedale High School football, he was an even greater builder of the school district.

In many respects, Bell, who died Friday morning at the age 83, epitomized Trojan Pride.

"Deward Bell was a worker. A physical worker. Always was," former Homedale High School principal Nolan Taggart said Monday afternoon. "And if something needed done, you'd see him there doing, helping."

Taggart's relationship with the man he calls his mentor began when Bell arrived in Homedale as a 32-year-old World War II veteran from the now-defunct Paul High School.

"He came here as a coach in 1955, and his idea was he was going to be here a couple, three years, and he spent his entire career here," Taggart said.

Bell coached all four major sports at the high school, but made a far greater impact as an administrator - first as high school principal and then as the school district's superintendent.

He served as superintendent from 1962 until his retirement in 1986. During those 25 years, Bell was more than a suit.

Taggart said Bell often helped the school maintenance crew complete projects in the summer.

"Almost every day, he'd be in his office in the morning. Then he'd go home for lunch and come back in his Levis and work with the work crew," said Taggart, who often spent his summers as a maintenance worker.

Taggart said Bell helped build fences for the district — not a big stretch for a man who came from a ranching family. He also helped build the original bleachers for the football stadium that later would bear his name.

Bell's literal hands-on approach to running the school district wasn't out of some sense of ultra-frugality, but Taggart said his shrewdness and intelligence shone through anyway.

"Financially, he was just so savvy, and he didn't have to have an attorney come in and talk to him about school law," Taggart said in explaining Bell's nickname as the Wizard of Homedale Finances. "He knew school law. He was just very bright."

Bell also knew personnel and students.

"Deward was my high school teacher and coach, and he was the finest teacher I ever had in high school," Taggart said. "He taught American Government, and he was very knowledgeable and he expected a lot."

The lessons would continue after Taggart returned to Homedale with his teaching degree.

"Deward was my mentor as far as I'm concerned," said Taggart, who was a sophomore when Bell showed up to coach football, basketball, baseball and track and field at Homedale. "As I thought about teaching and treating people (with respect) and getting along, he was the guy I looked to, and he was just a fine example."

On the athletic field, Bell turned a perennial football also-ran into a squad that won championships four of the last six years he held the clipboard. Ironically, his final season would be one of only two losing seasons for the Trojans over the next two-plus decades.

Bell guided the boys' basketball team to at least three state tournaments, including a second-place finish in the 1959-60 tourney. Homedale won 26 consecutive games, losing only its opener and the Class AA state final.

"I always thought he was a really good teacher and an excellent coach," Taggart said. "He's the guy that started the winning tradition."

Bell also began a tradition of picking quality personnel. Taggart said it was Bell who set him on his path to become principal at both the junior high school and high school in Homedale. And he was a fair boss, Taggart said.

"In my estimation, he was absolutely, totally honest," Taggart said. "And integrity was a big thing, and you knew exactly how you stood with him."

And, perhaps the best mark for any teacher, Bell was there for the children, and all he asked was dedication in the classroom and participation in school activities. Taggart said Bell would go as far as making sure a shy kid had a date for Homecoming, if there was a chance that boy would stay home from that important event.

"He was keen on the kids when he was a teacher and coach," Taggart said.

"And I don't think there was another teacher that was more demanding than him, and that's not always the case that the head coach is the strongest teacher in the school."

Owyhee Avalanche

-

April 4, 2007

Deward Bell

A gentle giant, known as a loving husband, dad, grandfather, great-grandfather, brother and uncle to his family, as "The Wizard of Homedale (Finances)", patriotic soldier, educator, avid football fan and successful coach, Bishop and friend to others, completed his earthly journey in the early morning hours on Friday, March 30, 2007, at the local care center in Homedale. He was surrounded by many of those he loves.

Viewings will be held at the Homedale LDS Church on West Idaho Avenue, on Wednesday, April 4, from 5-7:00 p.m. and Thursday, April 5, from 11:00 a.m. to 1:00 p.m. Funeral services and a celebration of Deward's life will be Thursday, April 5 at 1:00 p.m., also at the LDS Chapel. In­terment will be held at the Marsing-Homedale Cemetery. Services are under the direction of Bell Funeral Home, Boise www.bell­funeral.com.

Deward X. Bell was born on October 5, 1923, at Albion, Idaho, to Jennie and Albert Bell. He was the sixth of eight children, including 4 brothers and three sisters.

Deward was educated in Albion, graduating from Albion High in 1942, where he lettered 4 years in football and served as senior captain. Thereafter he attended 1 semester of college at Southern Idaho College of Education also known as Albion Normal Teacher Training School before receiving an invitation from Uncle Sam to serve his country in the United States Army.

Our country was at war. In addition to his stateside duty, Deward served 26 months overseas, 11 of which were on the front lines. He was with the 206th Engineer Combat Battalion, serving with the First and Third Armies. He was awarded the European African Middle Eastern Service Ribbon, Good Conduct Medal and Victory Medal.

Deward was Honorably Discharged and returned home in 1946 to continue his education at Southern Idaho College to complete his undergraduate degree, lettering 4 years in football and serving as captain his senior year. He was selected as All-Conference Quarterback.

Deward married his eternal companion and sweetheart, Leah Mae Owens, in Burley, Idaho, on June 6, 1947. Their marriage was solemnized in the Idaho Falls LDS Temple on June 1, 1960.

Upon his graduation from college he began his lifelong dedication to the education of youth, teaching and coaching at Paul High School in Paul, Idaho, from 1950 to 1955, where he taught social studies and P.E. and served as head coach for football, basketball, baseball and track. Daughters Sheryl, JoAnn and Patti joined the family during this time.

In 1955 he came to Homedale to teach Social Studies and P.E. at the local high school. He was also head coach for football, basketball, track and baseball. After three years he left the classroom to assume the duties of principal, continuing his job as head coach of four sports. During this time daughter number four, Pam, was born.

Deward earned his Master's Degree from the College of Idaho in 1961. He took over as the superintendent of schools for the Homedale School District in 1962 where he served the community until his retirement in 1986.

Deward lived a life full of many adventures and has been recognized for his many accomplishments. He was an avid hunter, fisherman, snowmobiler, ATV rider, lifelong athletic referee, and official captain of the Bell Party Barge on which he spent many hours cruising Cascade Lake with friends and family. With the hard work of Leah, his entire family and numerous friends, he built the vacation mecca of Crown Point, complete with horseshoe pits, mini lodge, totem poles and an 18-hole miniature golf course. This year-round destination resort provided an unlimited number of hours of fun and relaxation to Deward's family and friends.

Deward was a born and bred rancher, maintaining his small acreage and livestock herd while fulfilling his professional duties. Not many seasons passed at the family home when there wasn't a garden growing, stubborn cows needing training, calves to be branded, horses to be ridden, hay hauled, or irrigating done. During his growing up years, he worked diligently on the family ranch, doing his daily chores and spending summers herding sheep in the south hills.

Awards Deward has received include: Masonic Lodge Certificate of Service to the Public Schools, Outstanding Service & Leadership to Western Idaho Conference, Service to the Canyon-Owyhee School Service Agency, President's Award from Idaho Coaches Association, Lifetime Sports Pass from the Idaho High School Activities Association (IHSAA), Lifetime Member­ship to the Third District Coaches Association, IHSAA Hall of Fame, Service to the Third District Commissioner's Advisory Board, and State of Idaho Service Award Certificate of Recognition.

Deward was a lifelong member of the Church of Jesus Christ of Latter-day Saints, serving in numerous callings, including Bishop and temple worker. He was also a member of the Homedale Kiwanis Club.

He was preceded in death by his parents, brother and sister-in-law Floyd and Leone Bell, sisters and brothers-in-law Chloe and Charles Warr, Melba Egbert and Kay Darrington, and a granddaughter Jeness Morris.

Survivors include his beloved wife Leah, brothers Leslie, Leo (Merla), and Dale (Lila), sister Althora (Sophie) Darrington, brother-in-law Oscar Egbert, sister-in-law Lena Jenkins, daughters Sheryl Bell, JoAnn (Tom) Morris, Patti (Stan) Zatica, and Pam (Joe) Favinger all of Homedale; numerous grandchildren, great-grandchildren, cousins, nieces, nephews and friends.

In lieu of flowers, memorial contributions may be made to the Deward Bell Memorial Scholarship, c/o Homedale High School, 203 East Idaho Avenue, Homedale, ID 83628.

The family would like to express their heartfelt appreciation to the entire staff at the Owyhee Health & Rehab Center in Homedale for their compassionate care to Deward during his stay, and to Deward's nephew Michael and Sara Bell of Bell Funeral Home in Boise for providing such comforting and meaningful funeral arrangements.